One Column Page
and responsive to boot
Tending God's Vineyard and Casting Down Mountains
by Adam Maarschalk

This article appeared in the 2022 Winter issue of Fulfilled! Magazine
---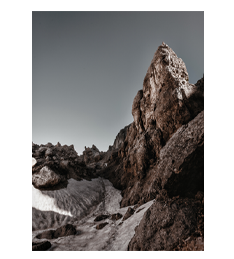 From the beginning, God has always desired a people who would faithfully tend to, care for, and enjoy living in His vineyard. "For the kingdom of heaven is like a landowner who went out early in the morning to hire laborers for his vineyard" (Matt 20:1 NKJV; emphasis added). Vineyards are not the only representation of God's kingdom, but they're certainly a prominent symbol that traces throughout biblical history, providing a foundation for understanding life in God's kingdom.
Tending God's Vineyard
"In the beginning" (Gen 1:1) when God "created man in His own image . . . male and female" (v. 27), He blessed them and called them to "be fruitful and multiply; fill the earth and subdue it; have dominion . . ." (v. 28). God planted a garden in Eden (Gen 2:8) and placed Adam there "to tend and keep it" (v. 15). As Genesis 3 details, he was later exiled from the garden.
Psalm 80:8-19 recaps Israel's journey out of Egypt with the metaphor of a vine that was planted and filled the land, but became broken due to unfaithfulness. Similarly, Isaiah 5 speaks of God's vineyard which He planted on a fruitful hill, expecting it to bring forth good grapes. Instead it brought forth wild grapes (vv. 1-2) and was in danger of being burned and laid waste (vv. 5-7). This vineyard was Israel and Judah (v. 7).
The Parable of the Wicked Vinedressers (Matt 21:33-46) also portrayed the vineyard that God planted and leased to vinedressers. It involved two lease terms, one before the owner of the vineyard came (vv. 33-39) and a second one after he came (vv. 41 and 43). During the first term, when the owner's servants came to receive fruit from the vineyard, they were beaten, stoned, or killed (vv. 34-36). The owner's son was also killed in an attempt to steal his inheritance (vv. 37-39). Those wicked men were miserably destroyed (v. 41), an event that was fulfilled in the Jewish-Roman War of AD 66-73.
The coming of the owner in judgment was the time when the first lease was terminated, but also when the second lease was initiated. It was given to "other vinedressers" with an unconditional promise that they would "render to him the fruits in their seasons" (v. 41) and be "a nation bearing the fruits of it" (v. 43). This nation, living beyond the time of judgment, would bear good fruit over multiple seasons. This is consistent with other post-judgment privileges and responsibilities recorded by Matthew, such as the Master returning and rewarding His faithful servants by making them rulers over many things (Matt 24:45-47, 25:14-23; cf. Rev 2:25-28).
This second lease of God's vineyard is the new covenant age, the new heavens and new earth, and the New Jerusalem which God's people have been part of since the first century. What is the key to bearing good fruit? Jesus said, "I am the vine, you are the branches. He who abides in Me, and I in him, bears much fruit . . . By this My Father is glorified, that you bear much fruit . . . I chose you and appointed you that you should go and bear fruit, and that your fruit should remain . . ." (John 15:5, 8, 16; emphasis added).
So bearing fruit in God's vineyard is something that naturally occurs through abiding in Christ. Furthermore, we are equipped with "every spiritual blessing in the heavenly places in Christ" (Eph 1:3), including the leaves of the tree of life for the healing of the nations (Rev 22:1-2).
Watering, pruning, and cultivating are some of the basic tasks carried out in a vineyard to keep it healthy and thriving. What does that look like in this new covenant age, and what are some ways that this has occurred in church history up until the present day? I'm interested in your thoughts once this issue is posted online at Fulfilled Communication Group's website and Facebook page1. I also welcome your feedback on the following idea that I will present here—that the prayers of the saints in the first century played a big role in the removal of a great hindrance to the new covenant community, and that this victory is a prototype for us today.
Casting Down Mountains
A few years ago I saved an article written by Don Walker titled "The Mountain Cast into the Sea." I don't have a working link to it as it was at Preterist Archives. Don discussed Jesus' words about casting a mountain into the sea and how His followers did exactly that with the specific mountain that Jesus was talking about. Here's an excerpt from that article:
The failure of many scholars and Bible commentators to recognize the significance of the fall of Jerusalem in 70 A.D. is evidenced through much of their interpretation of the New Testament. One clear case of this is found in Matthew 21:21-22 where Jesus says: "Truly I say to you, if you have faith, and do not doubt, you shall not only do what was done to the fig tree, but even if you say to this mountain, 'Be taken up and cast into the sea,' it shall happen. And all things you ask in prayer, believing, you shall receive."
. . . In order to properly interpret this passage we must note that Jesus did not say, "a mountain." Jesus said, "this mountain," which holds great hermeneutical importance. He is not speaking about "any mountain." He is speaking about a specific one. The Greek language is quite clear on this point. There is a definite article following the word "oros" (meaning mountain). Without the definite article it would mean that this would be translated as "a mountain." Obviously, "a mountain" and "this mountain" makes a difference in how one interprets what Jesus was referring to.
What mountain was Jesus specifically speaking about? I believe Jesus' Jewish disciples, steeped in the language of the Old Testament, knew exactly what Jesus was referring to in this instance, and which mountain was to 'Be taken up and cast into the sea.'
Mountains in the Scriptures symbolize nations and people (Isa 41:14-16, Zech 4:7). Exodus 15:17 tells us that God would "plant" Israel "in the mountain of Thine inheritance." Throughout the Old Testament the nation was spoken of as "Mount Zion" (example: Ps 48:11, 74:2, 125:1; Isa 8:18, 10:12, 24:23, 29:8; Joel 2:32) . . .
"This mountain" was understood, by the disciples, to be in reference to the nation of Israel which was directly related to the Temple. Coupled with this statement from Jesus, in the midst of His warnings about the destruction of Jerusalem (Matt 20-25), is His cursing of an unfruitful fig tree, as a symbol of judgment upon Israel [AM - Matt 21:18-22; Mark 11:12-14, 20-24].
Jesus was not suddenly changing the topic away from the destruction of Jerusalem, but focusing in on the role of His followers to pray, in faith, for its destruction. Commenting on this passage in his book, Days of Vengeance, David Chilton writes:
"Jesus was instructing His disciples to pray imprecatory prayers, beseeching God to destroy Israel, to wither the fig tree, to cast the apostate mountain into the sea."
In Revelation 8:8 we see the fulfillment of the prayers of the saints (Rev 8:3-4), when we are told, "something like a great mountain burning with fire was thrown into the sea." . . . It was, therefore, an actual fulfillment of the prayers of the saints who obeyed Christ's instructions. The "this mountain" that Jesus speaks of in Matthew 21:21 was replaced by "the great mountain" of Daniel 2:35. [Emphasis in original]
To build on what Don wrote, Revelation 8:1-6 certainly does make a strong connection between "the prayers of all the saints" (v. 3) and the seven trumpets that followed. An angel filled a censer with fire from the altar where the prayers were offered, threw it to the earth (v. 5), and the angels with the seven trumpets prepared to sound (v. 6). Comparing the literary structure of Revelation 8:8 to the downfall of "the great city" in Revelation 18 adds to the intrigue:
"And the second angel sounded: And something like a great mountain burning with fire was thrown into the sea . . ." (Rev 8:8; emphasis added).
""Then a mighty angel took up a stone like a great millstone and threw it into the sea," saying' (Rev 18:21a; emphasis added),
"Thus with violence the great city Babylon shall be thrown down, and shall not be found anymore" (Rev 18:21b; emphasis added).
Are there grounds for seeing this as a prototype for other "mountains to be cast into the sea"? I welcome your thoughts, but I believe there are. Immediately after causing the fig tree to wither and telling His disciples that they could likewise cast the mountain into the sea, Jesus said this: "And all things, whatever you ask in prayer, believing, you will receive" (Matt 21:22; emphasis added; cf. Mark 11:24). His promise pertained not only to that mountain, but also to other victories that needed to take place.
What strongholds, what "mountains," what barriers are facing us as individuals, as families, or as the body of Christ in this generation? What is exalting itself against the knowledge of Christ in our world, nation, or communities at this time?
The saints of God have received the kingdom and possess it forever (Dan 7:18, 22; Matt 21:43). The "kingdom and dominion, and the greatness of the kingdoms under the whole heaven" have been given "to the people, the saints of the Most High" (Dan 7:27).
Just as the first-century saints cast down the mountain that opposed the people, plans, and purposes of God in their time, we can and should unite in prayer and declaration against any mountains in our own day. Let's be people who realize and utilize the power of the kingdom that we have been given.
---
Comments:

William
June 14, 2023

Most excellent article Adam
---
Your honest review will help others in their search for truth. If you must leave a negative review please be gracious.
Rather, speaking the truth in love, we are to grow up in every way into him who the head, into Christ . . . .
(Ephesians 4:15)
Top