Left Sidebar Page
sidemenu, tabs and content
101 Timing Passages
"The great service preterism performs is to focus attention on two major issues. The first is the time-frame references of the New Testament regarding eschatological prophecy. The preterist is a sentinel standing guard against frivolous and superficial attempts to downplay or explain away the force of these references. The second major issue is the destruction of Jerusalem." (R. C. Sproul, The Last Days according to Jesus) pp 202-203
---
Site Menu
---
Our Mission:
Exploring and proclaiming the good news of fulfilled prophecy and life in Christ, equipping and encouraging everyone in our journey toward biblical truth, enabling each of us to better discern and develop our roles in the kingdom of God.
101 Timing Passages regarding the Second Coming, Resurrection, and Judgment
[This list of timing passages was originally complied by David Green in an article titled "Preterism 101."]
Many Christians are unaware of how many time statements there are in the New Testament which refer to the Second Coming, The Resurrection, and/or The Judgment. Because we often only encounter one or two of these texts at a time, it can be easy to "explain them away." However, when they are compiled in a list such the following, the message is unmistakable: Jesus and the New Testament authors taught and expected Christ to return in their generation! Furthermore, opponents of preterism often accuse preterists of building their eschatology on only one or two texts. For example, John MacArthur claims that
"hyper-preterists build their whole theology on a misunderstanding of Christi's words in Matthew 24:34: 'Assuredly, I say to you, this generation will by no means pass away till all these things take place." (The Second Coming, p 10)
Likewise, Keith Mathison writes
"The foundational thesis of all forms of hyper-preterism is the idea that the second coming of Jesus Christ occurred in or around A.D. 70. Hyper-preterists have attempted to defend this thesis by appealing to certain eschatological 'time texts' within the New Testament." (When Shall These Things Be? p 212)
While MacArthur accuses (hyper) preterists of building our theology on a single passage, Mathison claims that we appeal to "certain" New Testament texts. However, nothing could be further from the truth! Full preterists (whom MacArthur and Mathison pejoratively label "hyper-preterists") build their theology on
every
New Testament time text. However, because these texts are scattered throughout the New Testament, we typically encounter them one at a time, which makes dismissing their apparent meaning much easier. It also makes the accusations against full preterism like MacArthur and Mathison have made sound plausible. However, once Bible students are confronted with a comprehensive list of time statements, it becomes quite apparent that full preterism is not built upon only "certain" New Testament texts, let alone a single passage. As you will see, the list is quite substantial. Furthermore, this list contains only the most direct time statements; there are also numerous indirect time statements, but those will be addressed in a separate article.
Some acknowledge this sense of imminency regarding eschatological events, and argue that God wants all saints at in all times to have a spirit of expectation. But if that's the case, why were no Old Testament prophets told that the kingdom was "at hand" or coming "soon"?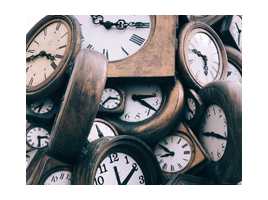 1. . . . the kingdom of heaven is at hand. (Matthew 3:2 ESV)
2. Who warned you to flee from the wrath [Gk about] to come? (Matthew 3:7 ESV)
3. Even now the axe is laid to the root of the trees (Matthew 3:10 ESV)
4. His winnowing fork is in his hand . . . (Matthew 3:12 ESV)
5. Repent, for the kingdom of heaven is at hand. (Matthew 4:17 ESV)
6. The kingdom of heaven is at hand. (Matthew 10:7 ESV)
7. . . . you will not have gone through all the towns of Israel before the Son of Man comes. (Matthew 10:23 ESV)
8. . . . the age [Gk. about] to come. (Matthew 12:32 ESV)
9. For the Son of Man going [Gk. about] to come with his angels in the glory of his Father, and then he will repay each person according to what he has done. (Matthew 16:27 ESV)
10. Truly I say to you, there are some standing here who will not taste death until they see the Son of Man coming in his kingdom. (Matthew 16:28 ESV; cf. Mark 9:1, Luke 9:27)
11. "When therefore the owner of the vineyard comes, what will he do to those tenants?" They said to him, "He will put those wretches to a miserable death and let out the vineyard to other tenants who will give him the fruits in their seasons." Jesus said to them, "Have you never read in the Scriptures:

'The stone that the builders rejected
has become the cornerstone;
this was the Lord's doing,
and it is marvelous in our eyes'?

Therefore I tell you, the kingdom of God will be taken away from you and given to a people producing its fruits. And the one who falls on this stone will be broken to pieces; and when it falls on anyone, it will crush him." When the chief priests and the Pharisees heard his parables, they perceived that he was speaking about them. (Matthew 21:40-45 ESV)
12. Truly I say to you, this generation will not pass away until all these things take place. (Matthew 24:34 ESV)
13. But I tell you, from now on you [Gk is plural, indicating not just Caiaphas, but all present], will see the Son of Man seated at the right hand of Power and coming on the clouds of heaven. (Matthew 26:64 ESV; cf Mark 14:62, Luke 22:69)
14. The time is fulfilled, and the kingdom of God is at hand. (Mark 1:15 ESV)
15. What will the owner of the vineyard do? He will come and destroy the tenants and give the vineyard to others. . . . they perceived that he had told the parable against them. (Mark 12:9, 12 ESV)
16. This generation will not pass away until all these things take place.. (Mark 13:30 ESV)
17. Who warned you to flee from the wrath to [Gk about] come? (Luke 3:7 ESV)
18. Even now the axe is laid to the root of the trees. (Luke 3:9 ESV)
19. His winnowing fork is in his hand. (Luke 3:17 ESV)
20. The kingdom of God has come near to you. (Luke 10:9 ESV)
21. . . . the kingdom of God has come near. (Luke 10:11 ESV)
22. What therefore will the owner of the vineyard do to them? He will come and destroy those tenants and give the vineyard to others." . . . The scribes and the chief priests sought to lay hands on him at that very hour, for they perceived that he had told this parable against them. (Luke 20:15, 19 ESV)
23. . . . for these are the days of vengeance, to fulfill all that is written. (Luke 21:22 ESV)
24. Truly, I say to you, this generation will not pass away until all has taken place. (Luke 21:32 ESV)
25. But turning to them Jesus said, "Daughters of Jerusalem, do not weep for me, but weep for yourselves and for your children. For behold, the days are coming when they will say, 'Blessed are the barren and the wombs that never bore and the breasts that never nursed!' Then they will begin to say to the mountains, 'Fall on us,' and to the hills, 'Cover us.' (Luke 23:28-30 ESV; cf. Rev 6:14-17)
26. But we had hope that he was the one [Gk. about] to redeem Israel. (Luke 24:21 ESV)
27. In that day you will know that I am in my Father, and you in me, and I in you. . . . Judas (not Iscariot) said to him, "Lord, how is it that you will [Gk. are about to] manifest yourself to us, and not to the world?" (John 14:20, 22 ESV)
28. If it is my will that he remain until I come, what is that to you? (John 21:22 ESV)
29. But this [Pentecost] is what was uttered through the prophet Joel: "And it shall be in the last days . . . . (Acts 2:16-17 ESV)
30. . . . because he has fixed a day on which he will [Gk. is about to] judge the world in righteousness by a man whom he has appointed; (Acts 17:31 ESV)
31. . . . that there will [Gk. is about to] be a resurrection of both the just and the unjust. (Acts 24:15 ESV)
32. And as he reasoned about righteousness and self-control and the coming [Gk. about to] judgment, Felix was alarmed . . . . (Acts 24:25 ESV)
33. But the words "it was counted to him [Abraham]" were not written for his sake alone, but for ours also. It will [Gk. is about to] be counted to us who believe in him who raised from the dead Jesus our Lord . . . . (Romans 4:23-24 ESV)
34. For if you live according to the flesh you will [Gk. are about to] die . . . . (Romans 8:13 ESV)
35. For I consider that the sufferings of this present time are not worth comparing with the glory that is [Gk. about] to be revealed to us. (Romans 8:18 ESV)
36. Besides this you know the time, that the hour has come for you to wake from sleep. For salvation is nearer to us now than when we first believed. (Romans 13:11 ESV)
37. The God of peace will soon crush Satan under your feet. (Romans 16:20 ESV)
38. This is what I mean, brothers: the appointed time has grown very short. (1 Corinthians 7:29 ESV)
39. For the present form of this world is passing away. (1 Corinthians 7:31 ESV)
40. Now these things happened to them as an example, but they were written down for our instruction, on whom the end of the ages has come. (1 Corinthians 10:11 ESV)
41. We shall not all sleep, but we shall all be changed, in a moment, in the twinkling of an eye, at the last trumpet. For the trumpet will sound, and the dead will be raised imperishable, and we shall be changed. (1 Corinthians 15:51-52 ESV)
42. . . . not only in this age, but also in the one [Gk. about] to come. (Ephesians 1:21 ESV)
43. The Lord is at hand. (Philippians 4:5 ESV)
44. . . . the hope of the gospel that you heard, which has been proclaimed in all creation under heaven. (Colossians 1:23 ESV; cf. Matthew 24:14, Romans 10:18, 16:26, Colossians 1:5-6, 2 Timothy 4:17 , Revelation 14:6-7)
45. These are a shadow of the things [Gk. about] to come. (Colossians 2:17 ESV)
46. . . . we who are alive, who are left until the coming of the Lord. (1 Thessalonians 4:15 ESV)
47. But you are not in darkness, brothers, for that day to surprise you like a thief. (1 Thessalonians 5:4 ESV)
48. . . . may your whole spirit and soul and body be kept blameless at the coming of our Lord Jesus Christ. (1 Thessalonians 5:23 ESV)
49. . . . since indeed God considers it just to repay with affliction those who afflict you, and grant relief to you who are afflicted as well as to us, when the Lord Jesus is revealed from heaven with his mighty angels in flaming fire . . . . (2 Thessalonians 1:6-7 ESV)
50. . . . godliness . . . holds promise for the present life and also for the life [Gk. about] to come. (1 Timothy 4:8 ESV)
51. I charge you . . . to keep the commandment unstained and free from reproach until the appearing of our Lord Jesus Christ. (1 Timothy 6:13-14 ESV)
52. . . . thus storing up treasure for themselves as a good foundation for the [Gk. about to come] future . . . . (1 Timothy 6:19 ESV)
53. But understand this, that in the last days there will come times of difficulty. For people will be lovers of self, lovers of money, proud, arrogant . . . Avoid such people. (2 Timothy 3:1-5 ESV)
54. I charge you in the presence of God and of Christ Jesus, who is [Gk. about] to judge the living and the dead . . . . (2 Timothy 4:1 ESV)
55. Long ago, at many times and in many ways, God spoke to our fathers by the prophets, but in these last days he has spoken to us by his Son . . . . (Hebrews 1:1-2 ESV)
56. Are they not all ministering spirits sent out to serve for the sake of those who are [Gk. about] to inherit salvation? (Hebrews 1:14 ESV)
57. For it was not to angels that God subjected the world [Gk. about] to come, of which we are speaking. (Hebrews 2:5 ESV)
58. . . . and have tasted the goodness of the word of God and the powers of the age [Gk. about] to come . . . . (Hebrews 6:5 ESV)
59. For land that has drunk the rain that often falls in it, and produces a crop useful to those for whose sake it is cultivated, receives a blessing from God. But if it bears thorns and thistles, it is worthless and near to being cursed, and its end is to be burned (Hebrews 6:7-8 ESV)
60. In speaking of a new covenant, he makes the first one obsolete. And what is becoming obsolete and growing old is ready to vanish away. (Hebrews 8:13 ESV)
61. By this the Holy Spirit indicates that the way into the holy places is not yet opened as long as the first section is still standing (which is symbolic for the present age). According to this arrangement, gifts and sacrifices are offered that cannot perfect the conscience of the worshiper, but deal only with food and drink and various washings, regulations for the body imposed until the time of the reformation. (Hebrews 9:8-10; cf. Galatians 4:19, Ephesians 2:21-22, 3:17, 4:13)
62. But when Christ appeared as a high priest of the good things [Gk. about] to come . . . . (Hebrews 9:11 ESV)
63. But as it is, he has appeared once for all at the end of the ages to put way sin by the sacrifice of himself. (Hebrews 9:26 ESV)
64. For since the law has but a shadow of the good things [Gk. about] to come . . . . (Hebrews 10:1 ESV)
65. . . . but encouraging one another, and all the more as you see the Day drawing near. (Hebrews 10:25 ESV)
66. . . . but a fearful expectation of judgment, and a fury of fire that will [Gk. is about to] consume the adversaries. (Hebrews 10:27 ESV)
67. For "Yet a little [Gk. very, very little] while, and the coming one will come and not delay . . . . (Hebrews 10:37 ESV)
68. For here we have no lasting city, but we seek the city that is [Gk. about] to come. (Hebrews 13:14 ESV)
69. So speak and so act as those who are [Gk. about] to be judged under the law of liberty. (James 2:12 ESV)
70. Come now, you rich, weep and howl for the miseries that are coming upon you. . . You have laid up treasures in the last days. (James 5:1, 3 ESV)
71. Be patient, therefore, brothers, until the coming of the Lord. (James 5:7 ESV)
72. You also, be patient. Establish your hearts, for the coming of the Lord is at hand. (James 5:8 ESV)
73. . . . who by God's power are being guarded through faith for a salvation ready to revealed in the last time. (1 Peter 1:5 ESV)
74. He was foreknown before the foundation of the world but was made manifest in the last time for the sake of you . . . . (1 Peter 1:20 ESV)
75. . . . but they will give account to him who is ready to judge the living and the dead. (1 Peter 4:5 ESV)
76. The end of all things is at hand; therefore be self-controlled and sober-minded for the sake of your prayers. (1 Peter 4:7 ESV)
77. For it is time for judgment to begin at the household of God . . . . (1 Peter 4:17 ESV)
78. So I exhort the elders among you, as a fellow elder and a witness of the sufferings of Christ, as well as a partaker in the glory that is going [Gk. about] to be revealed . . . . (1 Peter 5:1 ESV)
79. And we have the prophetic word more fully confirmed, to which you will do well to pay attention as to a lamp shining in a dark place, until the day dawns the morning star rises in your hearts . . . . (2 Peter 1:19 ESV)
80. But false prophets also arose among the people, just as there will be false teachers among you, who will secretly bring in destructive heresies, even denying the Master who bought them, bringing upon themselves swift destruction. And many will follow their sensuality, and because of them the way of truth will be blasphemed. And in their greed they will exploit you with false words. Their condemnation from long ago is not idle, and their destruction is not asleep. (2 Peter 2:1-3 ESV - false teachers existed in the NT generation)
81. . . . knowing this first of all, that scoffers will come in the last days with scoffing . . . . For they deliberately overlook this fact . . . . (2 Peter 3:3, 5 ESV)
82. But the day of the Lord will come like a thief, and then the heavens will pass away with a roar, and the heavenly bodies will be burned up and dissolved, and the earth and the works that are done on it will be exposed. Since all these things are thus to be dissolved, what sort of people ought you to be in lives of holiness and godliness, waiting for and hastening the coming of the day of God . . . ! (2 Peter 3:10-12 ESV)
83. . . . the darkness is passing away and the true light is already shining. (1 John 2:8 ESV)
84. And the world is passing away . . . . (1 John 2:17 ESV)
85. Children, it is the last hour . . . . (1 John 2:18 ESV)
86. . . . and as you have heard that antichrist is coming, so now many antichrists have come. (1 John 2:18; cf. Matthew 24:23-34 ESV)
87. . . . and every spirit that does not confess Jesus is not from God. This is the spirit of the antichrist, which you heard was coming and now is in the world already. (1 John 4:3; cf. 2 Thessalonians 2:7 ESV)
88. For certain people have crept in unnoticed who long ago were designated for this condemnation . . . . It was about these that Enoch, the seventh from Adam, prophesied, saying, "Behold, the Lord comes with then thousands of his holy ones . . . .(Jude 4, 14-15 ESV)
89. But you must remember, beloved, the predictions of the apostles of our Lord Jesus Christ. They said to you, "In the last time there will be scoffers, following the own ungodly passions." It is these who cause divisions . . . . (Jude 17-19 ESV)
90. The revelation of Jesus Christ, which God gave him to show to his servants the things that must soon take place. (Revelation 1:1 ESV)
91. . . . for the time is near. (Revelation 1:3 ESV)
92. Only hold fast what you have until I come. (Revelation 2:25 ESV)
93. Because you have kept my word about patient endurance, I will keep you from the hour of trial that is coming [Gk. about to come] on the whole world. (Revelation 3:10 ESV)
94. I am coming soon. (Revelation 3:11 ESV)
95. She gave birth to a male child, one who is [Gk. about] to rule the nations with a rod of iron . . . . (Revelation 12:5 ESV)
96. And in her was found the blood of prophets and of saints, and of all who have been slain on earth. (Revelation 18:24; cf. Matthew 23:35-36, Luke 11:50-51 ESV)
97. . . . has sent his angel to show his servants what must soon take place. (Revelation 22:6 ESV)
98. And behold, I am coming soon. (Revelation 22:7 ESV)
99. Do not seal up the words of the prophecy of this book, for the time is near. (Revelation 22:10 ESV)
100. Behold, I am coming soon. (Revelation 22:12 ESV)
101. Surely I am coming soon. (Revelation 22:20 ESV)
Top