One Column Page
and responsive to boot
The Indwelling Christ
by Edward Ferner

This article appeared in the 2021 Winter issue of Fulfilled! Magazine
---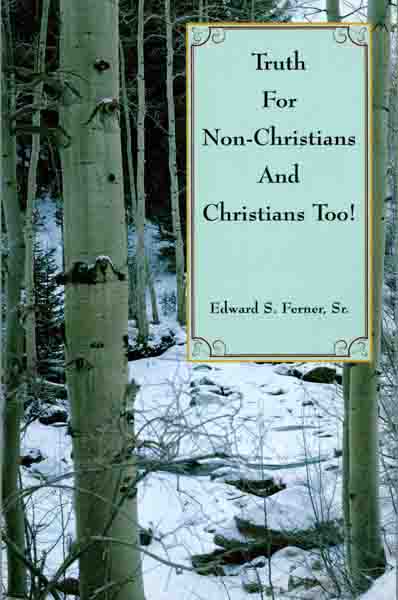 Some years ago I came across the Galatians 1:15-16 passage, which immediately seized my attention. In particular, the following words attracted my focus: ". . . he . . . was pleased to reveal his Son in me . . .". If you are following along in your Bible, be sure to determine if it has the same word usage as my Interlinear Greek-English Nestle Text. In particular, the word translated as "in," which is the Greek "en," is often poorly translated as "to," so the phrase may read something like "to reveal his Son to me." This is an unacceptable translation and should read "in."
This verse surprised me because it was saying that God revealed to Paul that His Son, Jesus Christ, lived inside of Paul! At that time I was astonished by that statement. I immediately set out wondering if the revelation that Paul had was a "one of a kind" revelation just for Paul because he was such a prominent figure in the New Testament, or whether there was more to this indwelling of Christ that perhaps included other—perhaps even all other believers.
Within a few days of research I discovered a number of passages that answered my question.
"But if Christ is in you, although your bodies are dead because of sin, your spirits are alive because of righteousness. If the Spirit of him who raised Jesus from the dead dwells in you, he who raised Christ Jesus from the dead will give life to your mortal bodies also through his Spirit which dwells in you" (Rom 8:10, 11, RSV; take note of the word "dwell" being used twice).
"Do you not realize that Jesus Christ is in you? . . ." (2 Cor 13:5c).
"To them God chose to make known how great among the Gentiles are the riches of the glory of this mystery, which is Christ in you, the hope of glory" (Col 1:27).
What an amazing truth! God, whom we all know as Spirit because He proclaims that to us in John 4:24 of the Scripture, lives in us spiritually in the New Covenant in which we live today! This is unique to the New Covenant. In the Old Covenant God came "upon" various people and the prophets, but almost exclusively that was a temporary event. The only people I know of in the Old Covenant that were indwelled were John the Baptist (Luke 1:15), and Jesus of Nazareth (Col 1:19, 2:9) Although we read about John the Baptist and Jesus in the New Testament, they both ministered under the Old Covenant because Jesus had not yet inaugurated the New Covenant. As informative as the above was to me, I then noted a dynamite passage:
I have been crucified with Christ; it is no longer I who live, but Christ who lives in me; and the life I now live in the flesh I live by the faith of the Son of God, who loved me and gave himself for me (Gal 2:20).
With the introduction of Galatians 2:20 into the mix I had some new additions to my theology. The first being an increased consciousness of the two realms in which we all live on Earth: the physical realm, with which we are quite familiar, and the spiritual realm, which is a somewhat neglected realm insofar as Christian fellowship and understanding is concerned. The only way I could make sense about the first section of this verse was to understand that it is a fact that in the spiritual realm I was crucified with Christ on the Cross of Calvary with Him. That settled it, or, as the saying goes in our home, Ed is dead!
Moving deeper into the verse I saw there was a new life that now lived in me—namely, Christ who had taken up residence in me to live His life through me to the inhabitants of the world. It struck me that this physical body of mine had, after my conversion to Christ, become a vessel for Christ to move about in the world expressing Himself to those with whom I came in contact. "But we have this treasure in earthen vessels, to show that the transcendent power belongs to God and not to us. . . . always carrying in the body the death of Jesus, so that the life of Jesus may also be manifested in our bodies" (2 Cor 4:7, 10). What a wonderful biblical truth!
Yes, my physical biological body is living biologically, but it is by the faith of the Son of God that my spiritual being lives. Here is another instance where the best Greek text needs to be referred to for the proper translation. Some translators have rendered the Greek into English by the phrase "by faith in the Son of God" but the Greek does not support that at all. It should read "by faith of the Son of God." As believers we have been blessed with every spiritual blessing in the heavenly places (Eph 1:3) and lack no good thing—including faith, which is part of that complete package!
As you now study the Scriptures you will be seeing, perhaps for the first time, that there are two expressions that represent the indwelling in us. Those expressions will appear as "Christ in us," and "our being in Christ." You can find 137 passages I have listed from the Bible that make these indwelling statements in Learning Activity #8 on my website.1 Learning Activity #8A also addresses this indwelling truth.
As interesting as all of this is, there is much more, such as the fact that when all of this took place at our conversion, a huge set of spiritual changes resulted in our becoming what the Bible refers to as a "new creation."
"Therefore, if any one is in Christ, he is a new creation; the old has passed away, behold the new has come" (2 Cor 5:17).
You may be surprised to discover that the little word "new" in this verse is the Greek "kaine," from "kainos," which has the meanings of: new, recently made, fresh, recent, unused, unworn, of a new kind, unprecedented, novel, uncommon, unheard of (Thayer's Greek Lexicon).
There are actually two Greek words in the Scriptures that are translated as "new." They are "neos" and "kainos." If neos had been used it would have meant that we are no more than a makeover, which is what we hear much too often in Christian circles. It means new with respect to time, totally like the old but not as old in time as the old—time is what makes it new.
Kainos, on the other hand, means new as to form, quality, nature, far superior and completely unlike the old. Because Christ is in you you're not just an improved version of the old, you're completely new and totally different! Why? Because of Christ indwelling you!
It is my desire that now you will appreciate the statement on the front cover of this magazine that reads ". . . and life in Christ."
---
1
www.ChristEternalChristianChurch.com
---
Comments:

---
Your honest review will help others in their search for truth. If you must leave a negative review please be gracious.
Rather, speaking the truth in love, we are to grow up in every way into him who the head, into Christ . . . .
(Ephesians 4:15)
Top