One Column Page
and responsive to boot
Mary's Prayer
by T. J. Smith

This article appeared in the 2021 Summer issue of Fulfilled! Magazine
---
In March, as the Pope scrambled to assure everyone the mother of Yeshua is not a co-redemptor, I started thinking about Mary and her role in all this co-redemptor business. That led me to study her prayer and throw out some ideas that I found insightful. I believe she was speaking in terms of a future event. Though Scripture does not tell us her prayer was a prophecy, we can use internal evidence to determine that everything she said came to pass. I underlined the idioms and commented in parenthesis (Literal Standard Version; LSV).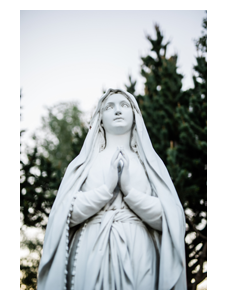 "My soul doth magnify the Lord," (Luke 1:46)
"And my spirit was glad on God my Savior." (Luke 1:47)
"Because He looked (anthropomorphism) on the lowliness (tapeinosis) of His maid-servant, For, lo, henceforth call me happy shall all the generations." (Luke 1:48)
"For He who is mighty did to me great things, And holy is His name." (Luke 1:49).
"And His kindness is to generations of generations, To those fearing Him." (Luke 1:50; the explanation of "those" to whom His kindness is directed. Not the whole world.)
"He did powerfully with His arm (poetic idiom and anthropomorphism), He scattered abroad the proud in the thought of their heart." (Luke 1:51; the only proud to whom Mary is referring were Jewish leaders: Pharisees and Sadducees and certain high priests. Recall Jesus' harsh words towards them.)
"He brought down the mighty from thrones, And He exalted the lowly." (Luke 1:52; This would include not only Jewish leaders who opposed him but possibly the entire Roman Empire, which would eventually see an end within the next 140 years. The lowly who were exalted included Gentiles and humble Jews who kept the commandments and were faithful.)
"The hungry He did fill with good," (not food as the Greek word shows, but a figure of speech to the humble in spirit and those seeking after truth.) "And the rich He sent away empty." (Luke 1:53; not only as depicted in the rich young ruler, but also the proud and rich in tradition.)
"He received again Israel His servant, To remember kindness," (Luke 1:54)
"As He spoke unto our fathers, To Abraham and to his seed—to the age." (Luke 1:55; read what Paul wrote about this: "Now to Abraham and his Seed were the promises spoken. He does not say, 'And to seeds,' as of many, but as of one, 'And to your Seed', who is Christ" [Gal 3:16 EMTV]. Mary was prophesying about Jesus being the fulfillment of the Abrahamic covenant. Abraham's "seed" was not the natural born children of Israel, but those who were, and are, in Christ.)
Mary's song was a response to what she just heard Elizabeth say. Here are the events:
<![if !supportLists]>1. <![endif]>Elizabeth's baby jumped in her womb upon Mary's presence
<![if !supportLists]>2. <![endif]>Elizabeth recognizes, acknowledges, and states out loud that Mary is the mother of her Lord
<![if !supportLists]>3. <![endif]>Mary's fruit was blessed
<![if !supportLists]>4. <![endif]>Mary was blessed because she believed what God told her would be fulfilled
Let's look at that encounter to learn more:
(v. 46) Mary enlarged (magnified) her image of God, she saw God in a 'big' way (magnified), and no doubt had been magnifying Him since Gabriel's pronouncement to her; she began praising and worshiping!
(v. 47) she then took to rejoicing in Him and the knowledge of what He had done up to this point.
(v. 48) she knew she was chosen for a task, the most important task in the universe, in spite of her low humble state (perhaps exactly for that reason).
(v. 49) "For the Mighty One has done great things for me, and holy is his name."
Interesting how this was worded, as it reads: "has done great things for me." I'm not sure if she's speaking of herself or in a prophetic manner for mankind as a whole.
This brings us current with Mary delivering her prayer. She takes on a knowledgeable tone as she spoke the words the prophets had foretold (vv. 50-55). Mary was reiterating all she knew as truth about God based on these verses, which confirmed her knowledge of Tanakh:
"And I will establish my covenant between me and thee and thy seed after thee in their generations for an everlasting covenant, to be a God unto thee, and to thy seed after thee." (Gen 17:7)
"And shewing mercy unto thousands of them that love me, keeping my commandments." (Exod 20:6)
"Oh how great is thy goodness, which thou hast laid up for them that fear thee, which thou hast wrought for them that trust in thee among the sons of men!" (Ps 31:19)
"Surely his salvation is near them that fear him; that glory may dwell in our land." (Ps 85:9)
"For as the heaven is high above the earth, great is his mercy toward them that fear him." (Ps 103:11)
"But the Mercy of the LORD from everlasting to everlasting upon them that fear him, and his righteousness unto children's children" (Ps 103:17)
"To such as keep his covenant, and to those that remember his commandments to do them." (Ps 103:18)
"He will bless them that fear the LORD, both small and great. (Ps 115:13)
"Let them now that fear the LORD say, that his mercy endureth forever." (Ps 118:4)
"He will fulfill the desire of them that fear him: he also will hear their cry and will save them." (Ps 145:19)
"Yahweh takes pleasure in them that fear him, in those that hope in his mercy." (Ps 147:11)
"Then they that feared the Yahweh spoke often one to another: and Yahweh hearkened, and heard, and a book of remembrance was written before Him for them that feared Yahweh, and that thought upon THE NAME." (Mal 3:16)
"And they shall be mine, saith Yahweh of hosts, in that day when I make up my jewels; and I will spare them, as a man spares his own son that serves him." (Mal 3:17)
How did Mary gain such a command of the Tanakh, being a young girl? This would have been highly unusual for a female. There is one possibility for which I have zero evidence, so take that into consideration: Since Zachariah, Mary's brother-in-law, was a priest, could it be that Mary was raised by Elizabeth and Zachariah? Or at the least had spent a lot of time with them and learned from Zachariah? Something to ponder.
Mary's prayer was so much more than just a young teenage girl thanking God for choosing her to be the mother of Yeshua. This prayer resonated with the knowledge of a young woman who had a deep grasp of the Tanakh and could recite it at will. She was prophesying over not only her Son and the people of her generation, but to all generations . . . who fear Him.
Until next time, Blessings. TJ
---
Comments:

---
Your honest review will help others in their search for truth. If you must leave a negative review please be gracious.
Rather, speaking the truth in love, we are to grow up in every way into him who the head, into Christ . . . .
(Ephesians 4:15)
Top